As we all know, employees spend more than half of their day time in the office. And, exactly that was our aim when we built our new office. We added each element that makes our employee comfortable and can work freely in our new office. Lets deep dive in the tour of Excellent Webworld's new office.
Three Warriors –
Beat 5000+ IT Companies
Just before few years, these three Warriors came up with a dream to build the best software development company.
And this is how Excellent Webworld came into existence.
Their hard work, passion, and profound industry knowledge carried Excellent WebWorld to a new level of success.
It's time to celebrate the success of Excellent Webworld with its big and swankier new office.
On 26 January, when the clock hit 11:30, our team got the first glimpse of the new office. We thought we should flaunt the office workspace and our culture to those who in the future would want to join EWW for better Career & growth. Without wasting our valuable time, let's begin the tour of our new office!!!
It's the entry point –
Reception Area
A reception area is a place which builds the impression of any business. Our reception area is where the visitors are first introduced to our space and where the team logs their daily entry and exit time. The visitors who are here to meet the directors or any employee or come for an interview can make themselves comfortable in the reception area. So we have given it a rich touch by decorating it with alluring interior and catchy background to the wall.
Our Research Lab –
Creativity and Innovation Comes Together
So, let's dive into the pool of innovations. Yes, that's our development area. Every day new experiments are carried out by our IoT developers. Our developers are always set to crack the codes and develop the marketable application, devices, websites and much more. We made our development area spacious and provided needed resources so that they can bring the best out of their efforts. Comfort zone and bright premises is the core part of our development area.
Being cool and quirky has always been our thing. Deviating from that would just feel wrong for our in-house team. So to maintain that, we added some fun and eye-catching elements to our work station. Something just like a Harley Davidson model clock or the indoor hanging plants. We intentionally kept these beautiful plants in our workspace keeping nature in mind.

Bringing Innovations Together –
Conference Room
Our conference room is the real star of our workspace. A place where new ideas are generated and important meetings are held. Its the place where we virtually travel across the globe with our clients by conducting meetings and calls. On one of the walls, we've put a few pictures of memorable meetings held with our potential clients when they visited our company or invited us to their place. In addition, we have added some best moments from our celebrations to another wall to cherish it.
Work – Game
– Rest – Repeat
We all need refreshment when there are workloads. And that's all about our gaming room. Our team follows a simple pattern that's work-game-rest-repeat. It's a place when new and old games are brought into the light. Some popular games among our employees are Jenga, Xbox, Carrom, Chess, and whatnot. We've made our gaming room colorful so that our employees feel refreshing. Here our employees get a seemingly endless supply of entertainment.
SEE ALSO: Life at EWW
The Man Den of EWW –
The Directors' Cabin
Wohooo!!! So, this' our director's cabin. The part of the office to which every employee is connected. It is designed in the most creative way where the wall contains the world map. It indicates our global presence across the different countries. The comfy sofas and the interior designs give a relaxed and classy look to the directors' cabin.
You've To Showcase Before You Sell It –
Sales & Marketing
Sales & Marketing go hand in hand. They act as a bridge between the clients and the service that an organization offers. Our sales & marketing department is built in a way that they can sit together and make the new strategize. The clocks mounted on the wall allows our sales and marketing expert to strategize calls and social media posts at proper time. Our team is always ready to scrutinize the ins and outs of the world.
Hundreds of flavors & Gossips –
Cafeteria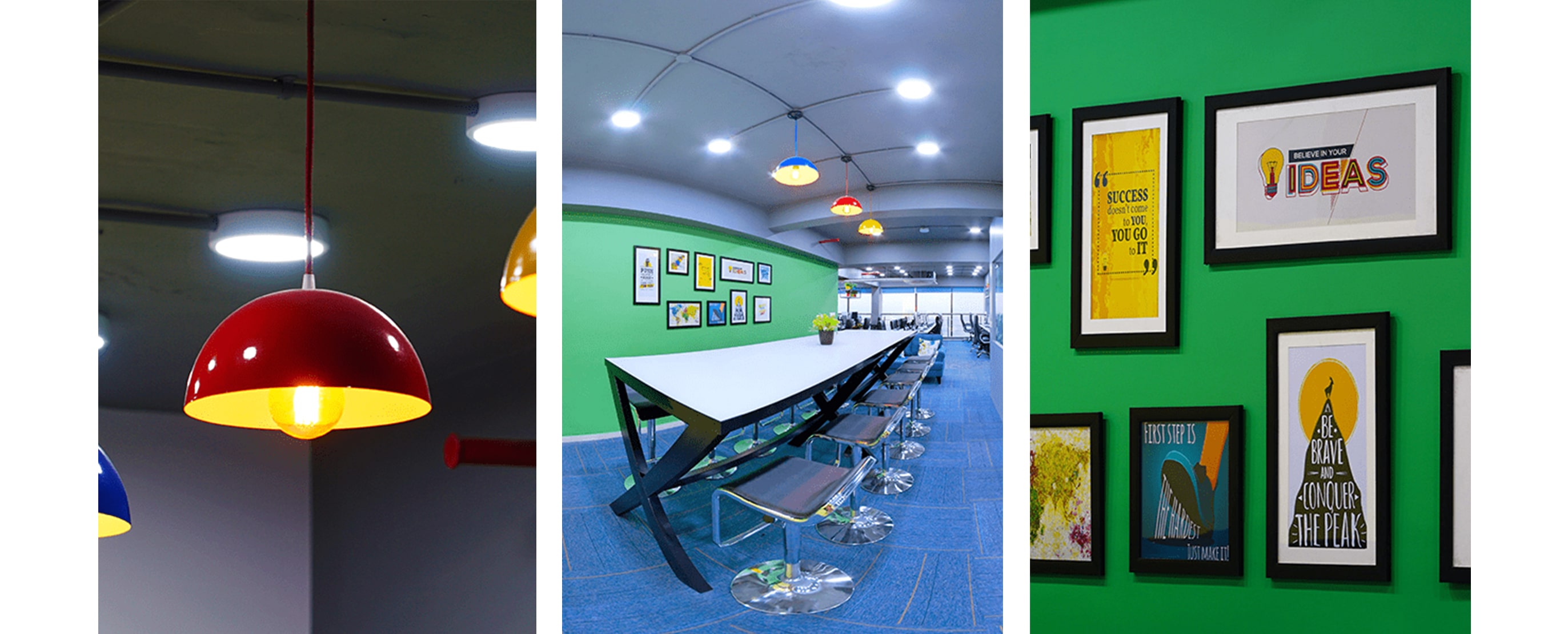 A place to share food and thousands of conversations.
Workspace
is always incomplete without a cafeteria is always incomplete without a cafeteria. Therefore we've made it the most creative one. We can even say that it is the most popular corner in our office. Have you noticed those frames with the quotes? It is our source of inspiration. In a way, it is the multipurpose area where one could play, relax, eat and not to mention gossip.
Center of a Connected Work –
HR Cabin & Server Room
HR cabin, the place where we all have passed through before joining Excellent WebWorld. We have designed an HR cabin as well as an interview room so that the interview process can go smoothly. The server room holds the major importance in any office and that is why we have built it in the best way possible.

Begin Your Journey
with EWW
All well-maintained workplaces are born from the idea of making the office a second home for the team so they can function as a happy and motivated unit. Ours is a perfect blend of comfort, inspiration, innovation, positive vibes and energy.
So how did you like our office?
Wanna join our team? Apply here!