Take advantage of the festive season and grow your business If you are looking for ways to grow your business, then this festive season is the right time for you. Your target audience is in constant need of your services and is looking for easy ways to reach you. Today, people need easy access approach to everything whether it is grocery shopping or Christmas tree shopping they want the best from their home. So, you need a way to reach the houses of your target customers.
Hope you are not utilizing the traditional methods like pamphlets and brochures to increase your reachability. Majority of the population nowadays prefer the Internet for everything, thus in this Christmas or festive season, several people will tend to search various offers, packages, and services online and different social media mediums like facebook, twitter, Instagram. You should know that your customers may also search your services on Google and you just need to make your presence on the search engine.
Check Out How Different Industries Can Grow In The Festive Season
Travel
This Christmas festive season travel agency can make their headway in the travel industry by acquiring more tourists for their services.
This can be achieved by developing a website or mobile app solutions which will serve tourists as all in one platform for booking travel tickets, getting tour packages, travel destination information, hotel searching and booking and much more.
This is the best ever approach since in Christmas holidays people mainly prefer to visit beautiful places and thus seek best travel agencies and offers for a complete tour package.
A travel website and app will let travel agencies to serve the following services to their customers:
Packages
Instead of calling your customers and telling them about the offers and packages, offer them attractive customisable packages directly from the mobile app.
Destinations
Show your customers the destinations for which you have packages along with the list of best destinations as per the categories.
Services
Travel app develoment companies
can better express their tourism services on the website or mobile app in an innovative manner to a large audience since nowadays almost everyone uses internet for everything.
Portfolios
Travel agencies can display their previous successful tours experience on the website with different sources like photo gallery, video etc. What travel can companies offer during the festive season?
Attractive discounts on some locations
Coupon codes for online booking
Couple package and family package
Collaborate with Hotels
You can collaborate with hotels at holiday destinations and earn extra money by putting their advertisement on your website and mobile app. Also, you can break a commission system with such hotels and suggest your customers to live in their hotels for the holiday stay.
Food
When it comes to festival food is an essential part and during festivals, it is high on demand. People prefer ordering their food through
on-demand food ordering mobile apps
, searching and booking a restaurant using the mobile app. Considering this scenario, Restaurants, cafes, and even the chefs should be prepared to handle the upcoming Christmas rush or to get the Christmas rush.
Restaurants and Cafes
McDonalds and Dominos like food giants have built their own mobile app and
website development solutions
which helps them to enhance their customer base due to the faster and easier food ordering and other services.
Now they are also having a mobile app to provide easy ordering from the mobile app. Being a restaurant owner you need to think about having a website as well as a mobile app and immense advantages it will bring to you this Christmas.
Having a website and mobile app can almost double your earnings as now you will be serving not just in the restaurant but also home delivering the food to customers.
Having your own mobile app will bring uncountable benefits such as
Online Table Booking
You can allow your customers to book their slots in advance which serve the best experience for them.
Customer retention
You can give loyalty points to your customers and tell them to redeem it at the next visit; this will definitely help you to get a large customer base.
Create Your Own Brand
Instead of giving subscription charges to third-party websites like Zomato, you can make your own brand with a website.
Digital Menu Card
You can put your menu card and specials on the website and can give an easy way for the customer to check out your restaurant offerings.
Online food ordering and delivery
It will be much easier for customers to order from your restaurant online. The customer can find your website and order their favorite food quickly without much headache. Festive offer ideas for restaurants:
Special discount on party booking
Discount during the odd hours
Special cuisines on the festive days
No last minute rush
Due to the website and mobile app, it gets easy not just for the customers but also the food joints as they get an estimation of how many people they will be serving each day in the holiday season.
Chef
Let your fans taste your Christmas special Cuisines by giving them an easy way to get your food and easy way directs to the mobile app. BigOven, Yummly, Cookpad etc are some famous recipe apps, you can have such mobile apps in your own recipes. For all the chefs out there who are dreaming of their own restaurant, this is your time.
With the mobile app, you can get your own virtual restaurant. The
restaurant mobile app
serves everything a restaurant has, the major difference is; you don't need any physical space. Your customers will order food from the app and can pick up from your place or either you can deliver the food at their place.
Here is what Mobile app can bring to your dream:
Creating Own Brand
Around 53% of the Chefs have increased their brand visibility from a mobile app
Virtual Restaurant
About 39% chefs prefer virtual restaurant because of no physical space requirements and staff salary issues
Easy Ordering
56% of customers prefer ordering the specialties of chefs from their personal mobile app
Your fans can get your popular recipes
Your app will get you closer to your fans and they can get your popular recipes
Get Better Social Media Connectivity
Different social media platforms can be connected with your app giving away to users for sharing your recopies. Best offers for the chefs:
Best offers for the chefs:
Combo offers
Special discounts on party orders
Catering offers
Boutiques
Fashion designers who own a boutique need a strong presence online to fight in the
e-commerce market
.
With the increase of eCommerce market like eBay and Amazon, You need a way to stand out from the crowd. Hence the idea to build your Own Mobile app and a website is more than a necessity at present.
With the app and a website Boutiques owners will have the following:
Online Presence
To make an app or website for your boutique business is a great idea to recreate your presence online so that your customers can search you on the internet.
Online Shopping
Let your customers shop online from your boutique, by integrating online store in your boutique app and website.
Offers and Discounts
Please your customers sending interesting offers and discounts on their smartphones.
Social Media Sharing
An app or website with social media integration will surely help you to enhance the customer base, since customers will be sharing their favorite and liked boutique service or products with their friends on social media.
Get Customer Queries
With easy contact ways like e-mail and messages integrated to your boutique website or app you can get and sort out the customer queries so as to serve better customer experience. What boutique can offer their customers in festive season?
Discounts on boutique products and services
Special boutique services
Special boutique services
Event Planning
Event planners are in the highest demand due to several parties and wedding at the festive time.
If you are a planner your website will display your previous work along with the information of packages that you provide.
Your Event Planning website will bring following:
Packages Display
On your website, you are able to show your services with prices of the packages
Better Portfolio
Website can be the best platform for you to display your best work and portfolio on one click.
Online Reviews and Ratings
Your customers can leave a review and ratings for your services on the website, helping you to understand and improve customer experience.
Upload Audio and Videos
You will be able to share some valuable and beautiful moments of your planned events by uploading its video clips, audio or photos on the website. What Event Planners can offer their customers?
Discounts on festive bookings
Special packages for festive event planning
Offers on next event planning
Here Are Some Startup Ideas To Generate Some Extra Income For The Festive Season
It is not necessary to have a well-established business to earn high ROI, all you need is a
Best App ideas
. It's all good if you already have an idea in your mind for a new startup. Still, we suggest you to look at some unique startup ideas that will be emerging in 2020  and can be implemented with mobile apps or websites which are trending business approaches for the Christmas.
Wallpaper Christmas App
As Christmas is a grand festival, people mainly tend to search for Christmas wishes and wallpapers. This could be an opportunity for building a startup business by creating paid or FREE Catalogue mobile app for wallpapers. The user can download Christmas wallpapers and images through this catalog app, by paying some amount. This Wallpaper Catalogue App could give a better ROI.
Emoji keyboard App
What's app like apps have given an interesting and fun experience to users through its range of different emojis. Since people are admiring these emojis greatly, building new keyboard emoji apps will be much profit for you.  Integrating new funny emojis with some great festive feeling along with GIFs could
make your hybrid app
more exciting and worthy.
Christmas Themes for Website and Mobile App
You can also implement this distinct startup idea which will surely profit you in this Christmas. Offer some interesting paid Christmas Themes for websites and mobile apps since many website and app owners will search for Christmas themes to upgrade their respective website and apps on this Christmas.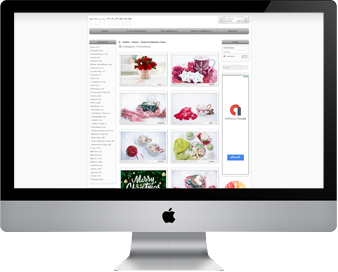 Conclusion
Still, have confusion for this Christmas?
Contact
Excellent Webworld for more help, and we will help you get clearer about more Christmas ideas. Excellent Webworld will also offer you powerful and guaranteed solution at an affordable cost to implement your idea of the mobile app and website development.