The Uber business model is considered among the best business strategies running in the world at present. That is the sole reason why Uber's revenue model has become a multi-stream entity with double-digit billion-dollar earning in a single year.
But every billion-dollar business enterprise started somewhere small and gradually grew from there. Uber is the poster child example of this American dream, and the Uber business plan the source of its victory.
The credit to this company's success goes to the impeccable Uber financial model and business strategy. If you don't believe me, I'll be presenting a lot of relevant Uber statistics all through the blog to support my claims about the robust Uber business model.
But, before learning about the Uber business strategies and financial model, you need a little crash course on the history of Uber.
Uber Company Portfolio & Statistics:
Company Headquarters: San Francisco, California, United States.
Uber CEO: Dara Khosrowshahi
Uber Founders: Garrett Camp, Oscar Salazar & Travis Kalanick
Last Funding Raised by Uber: $500M.
As of January 2023 Uber has a market cap of $58.71 Billion.
The Number of Active Users: More than 93 Million
The Number of Registered Drivers: Approximately 3.9 Million.
The Average Number of Daily Uber Trips: 17.4 Million
Why Uber Business Model

is Considered Best in the World?

Uber's year after year revenue is proof itself showing that their business strategy is among the best ones in the world, but let's study Uber strategy and planning in more detail.

There would be several questions in your mind like:
Why is Uber so successful?
What is Uber's business strategy??
What is Uber's business model?
How does Uber make money?
How Uber works?
How to build an app like Uber?
We'll be answering all these questions and a few more in this blog about Uber Business Model Canvas & Strategies. Uber started as a simple concept and a single question: What if you could request a ride from your phone?
What began as a simple thought quickly escalated into a global passenger transport brand and leading two sided marketplace that helps people move towards opportunities.
Uber Business Model Canvas
Every business is unique, so you can't compare a business strategy of McDonald's to the Uber growth strategy. But, learning how such a complex company with hundreds of independent sections, work is a humongous task in itself.
But, I have the perfect method to do so. With a business model canvas, you can learn about any company's goals, intent, and Uber business plans for the future, however big or small.
So, here's the Uber Business Model Canvas that will give you a quick glimpseon how Uber works and its business strategy that will help you to start a similar taxi business.
Now that you have taken a good look at the Uber business plan, i.e. BMC (Business Model Canvas) of Uber; let me elaborate more on how Uber works, or precisely how Uber begins and spreads its reach in new cities.
Uber's Customer Segments
As you saw in the canvas, the user segment of Uber are:
People who don't own cars
People who can't drive a car
People who don't want to drive themselves to parties
People who like to travel in style and luxury
People who are looking for a cost-effective transport option
So, unlike other on-demand businesses where the companies cater to a limited customer base, Uber has the benefit of providing a large array of transport services to its passengers. Uber offers services like UberX, UberXL, UberPOOL, UberBLACK, UberSUV, and much more for the various types of customers they serve.
We'll be talking about all these different ride service categories further in the blog. For now, let's learn more in detail about the Uber taxi business model and how uber makes money from it.
Uber's Value Proposition
If you do not understand the technical mumbo jumbo of the business world, you must be thinking, What in the name of dear Henry Ford is a value proposition?
Let me explain in plain English, just as Shakespeare would have intended. Value Propositions is the benefit that your stakeholders (passengers and drivers) will get from your company/service. So, here are the value proposition that Uber offers its customers and drivers.
Uber's Value Proposition for Customers:
Don't have to wait long for a taxi.
Get free rides or discounts on certain occasions from time to time.
Prices lower than the normal taxi fare.
Fixed prices for common locations like airports, stations, etc.
Uber's Value Proposition for Drivers:
An additional source of income for drivers.
Allows flexible working schedules where drivers can work part-time, full time, or whenever they want.
Offers easy payment procedure and earning management platform.
Those who wish to earn money and love to drive can pursue this as their hobby.
Starting a Taxi Business in a New City
Uber faces the same chicken and egg challenge whenever entering a new city, a new marketplace.
Although Uber serves the most professional cab services, it can still face difficulty in getting the right momentum for new city operations. To overcome this recurring problem, Uber created a systematic process of entering a new city and reaching to its people.
Uber did a few tie-ups with various corporates, in the beginning, corporates that have a large staff of employees. This way, whenever it launches its services in a new city or country, it has booked a regular customer base that will cover the running costs until Uber reaches to the common public of the location. For instance, if you're planning to start a taxi app in Kenya, then the first move towards the common public to achieve your goal.
As mentioned earlier, this is the solution for the chicken and egg problem in the business. Just like the classic riddle, whether the chicken came first or the egg, in business, there are two entities or factors co-dependent to each other, in this case, the driver and the passengers. So to enter this business, you have to bribe either the chicken or the egg, or both.
Uber bribed both by offering interesting discounts and referral points to the passengers, and high incentives and bonuses to the Uber drivers. Uber focuses on building the supply chain first and keep it flowing until the time the demand side to service increases. Uber's initial target is to get enough drivers as contractors and secure a steady passenger base whenever it enters into a new city.
Uber's various approaches and tactics in tackling the new city is the perfect lesson to new startups and entrepreneurs who are planning to start a similar business like Uber.
Uber's Operating Costs [with Uber Statistics]
You need to understand one scientific principle, the larger the mass of an object, the more force it needs to move. In simple terms, Heavy objects are harder to move than light ones. In business terms, a larger company has to put in more work to advance than a smaller startup. This theory stands absolutely true for Uber. The best part is Uber made a perfect mobile app business plan whether it's for operating costs or revenue generation.
Although Uber has a terrific plan to break the chicken and egg problem, it bleeds heavy money initially to capture the new market in a particular city. Despite handsome revenues in billions (soon to go in double-digit billions), the unicorn startup has recorded losses. The loss is due to the company's focus on the expansion of market demand.
Uber requires millions in working capital for each city that it enters, in terms of operating costs and marketing.
We have mentioned the accurate Uber revenue statistics to give you a better perspective of the company's spending.
How does Uber make money?

(Uber Revenue Model)

Short Answer:- Uber makes money from the commissions earned from each of its rides. But Uber's revenue model is not actually as simple as it sounds. You need to dig a little deeper to learn how this colossal business enterprise makes money.
Uber Revenue Model
There are several ways how Uber makes its humongous billions of dollar revenue, and we'll be talking about each of those ways here. I know you're looking at this section like a kid looking at a bar of snickers on Halloween. So, I won't tease you more.
Uber's Different Service Categories
Uber initially started to serve the elite class only, but moving forward, the company found out that this niche wasn't paying enough. So, they gradually shifted gears towards the larger crowd and the bigger market of the working class in the US cities.
As time passed, Uber learned about the large difference in their passengers and their requirements. That's when they decided to offer more niche services under their belt of services. Uber came up with different rideshare business plans based upon different car types and passenger needs such as UberX, UberXL, UberPOOL, UberBLACK, etc., each service with a different price range.
Predictive Demand Technology
What is the most pivotal piece of add-on technology that helps Google make billions in revenue? It's predictive text (auto-suggest for the non-technical readers). When you start typing something on Google, and the search engine offers suggestions according to what you are typing. This way, you get easier search experience, and Google guides you to the results it intends to show you.
Uber started working on a similar tool, a predictive demand technology to figure out which area in a city has more demand at a particular time of the day, which routes get more ride requests, etc. With enough data, Uber can give a highly user-friendly experience and can further focus on such sophisticated analytic tools to be developed.
Bonus!
How Our On-Demand App Development Services Can Help You!!
Uber's Surge Pricing Mechanism
This surge price mechanism works on Uber's predictive demand algorithm. So, further exploring these two pieces of innovation, Uber got its most promising stream of revenue. Surge price is simple; more the demand, higher the charge.
Uber is known to charge even 4x to 5x the normal charge for some routes, getting the company very negative feedback from its users.
But in favor of Uber, the company has to balance the demand and supply, both sides of the business. And, surge price is by far the most accurate solution for it. One can say that it is a necessary evil of the on-demand cab service that keeps the balance. Let me explain how.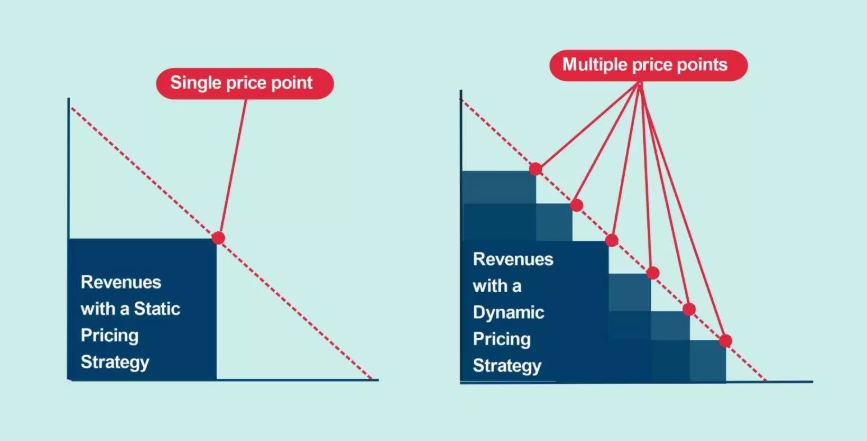 Source:Four Week MBA
The larger scale of business like Uber comes with larger problems and the need to further micromanage its deepest origins. With more demand by the passenger, the drivers need to be further incentivized. So, Uber continually looks up to times when it can charge the surge price to the riders.
The surge pricing also encourages more drivers to come to the area where demand is high to ensure there are enough cabs available. So, ride requests don't get piled up unattended. If you use Uber, you would know this happening frequently when coming to and from airports.
Cancellation Fee
If a passenger cancels a ride after a set time-frame, for instance, five minutes, he/she gets charged a cancellation fee. A good part of this fee is given to the driver who had to stay for the ride.
Leasing to Drivers
Uber began as the biggest online cab service that owned not a single car. But as time passed, they found an additional means of income by running a vehicle leasing program in many of its target countries to help new drivers get onboard faster. The drivers pay a security deposit upfront for the car, and the rental is deducted weekly from the driver's earnings.
Pivoting with Different Verticals
Uber learned that expanding and pivoting their business to different directions could be very lucrative, and they took the chance. Here are the alternate services that Uber offers besides its passenger transport segment.
UberRUSH: is a motorcycle pickup service launched by Uber. It's a package delivery service that delivers across all the big cities that Uber is operational in.
UberEATS: is the step Uber took towards on-demand food delivery vertical. UberEATS allows its users to order food and meals from participating restaurants. The restaurant does the cooking while the delivery is taken care of by Uber drivers.
UberBOAT: is available in all the big water-based cities and countries like Istanbul, Turkey, and Croatia. You must've already guessed that it's a water-taxi service where users can book a boat or yacht ride to go to a select location.
UberCHOPPER: After conquering the land and sea, why would Uber leave out the sky? The company has recently come up with helicopter rides service in some select cities. Uber partnered with Airbus for trials of UberCopter.
UberFREIGHT: is basically Uber for trucks. Uber launched its own on-demand trucking service to try its luck in one of the most lucrative transport business. Guess what, the company's gamble is paying out, and the revenue opportunities are also significant.
SEE ALSO: An Ultimate Transportation & Logistics Technology Solution
How will Uber make

money in the future?

A few of its research are still under wraps, but the ones that we have managed to dig out show a recurring theme that the company is aiming for in the future. And for my money, I would say it is a very profitable and safe bet.

Uber's Potential Future Revenue Streams:
Electric Scooters
Bike-Sharing
Autonomous Vehicles
Uber, just like several of the other biggest companies, is most concerned about the earth, and their business model for the future proves it. They are investing heavily in electric vehicles, pooling options, and vehicle sharing methods for the future.
Uber's Decade

long Journey 2009-2019

Uber has been in the game for 10 long years. From its humble beginnings in San Francisco, the company has come a long way. For a moment, forget about all the Uber statistics, Uber revenue, and Uber business strategy

Just look at the journey Uber has crossed in the last 10 years. This is a road map that many companies dream of achieving in their career.
See More: Marketplace Business Model
The Uber Ride Service.

Simplified!

We all know how Uber works. Order a cab on your app, and it comes to pick you up, right? After reading so much about Uber, we know that certainly, it's not that simple. There is a very sophisticated process that goes behind an Uber ride.
How Does an Uber Ride Work?
Here's the 5 step process of an Uber ride.
Step 1: Requesting the Ride
The passenger books a ride by feeding in the pickup and drop point and requests for the ride.
Step 2: Driver Accepts the Request
The closest driver will receive the request that you sent, and s/he can accept or decline as per the availability.
The driver accepts the request and comes to pick your up. You get in the car and get to the drop location with ease.
Step 4: The Payment Process
Once the cab reaches your assigned drop location, you can pay the driver via cards, cash, net banking, or in-app wallet.
The final step of the ride is the passenger (you) rating the ride experience from 1 to 5 stars based on the driver's behavior and vehicle comfort. Likewise, the driver will also rate the passenger.
So, that's how an Uber ride is done, from start to finish.
Uber's Ride Service

Categories

Here are the various Uber subscription models that the passengers can choose from while booking a cab. All these ride models depend on the Uber car types that the passenger chose from for their ride.
Uber's Economy Options
The economy service category are for the most common users who fall into the general passengers' category for Uber.
UberX
The most standard ride option that Uber offers is UberX. You, along with up to three other users, can book your ride in a sedan for door-to-door service.
UberXL
The UberXL ride model is similar to UberX, except that instead of a 4 sitter sedan you'll be getting picked up in an SUV or van with the capacity of 6 sitters. So if there are more than 4 people with you, book an UberXL.
Uber Select
You can book an Uber select for upto 4 passengers and get a low-cost ride in a higher-end sedan or SUV with a highly-rated Uber driver. The prices on UberSelect are cheaper than Uber's luxury category services. You can get a car anywhere from Kias and Hyundais to Audis and BMWs, depending on your luck and availability.
Uber's Cost Effective Options
The cost-effective option, as the name suggests, is for the passengers who are looking for the best services that help them save money.
UberPOOL
UberPOOL is the carpooling ride service that Uber offers for its users that are more concerned about saving money as well as the environment by sharing ride with other passengers with common drop locations. UberPOOL offers a door-to-door pickup and drop service where you can share the ride with upto 3 more passengers.
SEE Also: Know how to make a ridesharing app.
Express Pool
Express Pool is a new and cheapest ride option offered by Uber. The only difference with Express Pool is that it doesn't offer a door-to-door service, but instead, the passenger has to get to the allocated common spots (heat spots) to catch the ride. With Express Pool, the app shows the common pickup point nearby to your location but doesn't show you the dropoff points before you request a ride.
So, after reaching almost half of the way through a blog – did you felt like its a great idea to build an app like Uber for your startup? To the fact, these days it is quite easy to build an app with the help of a software development company. The best part is if you're running out of budget, then you can opt for Uber app clone solution or an MVP product. Isn't that interesting? Okay, back to the track again!
Uber's Luxury Options
If you live for the finer things in life, then Uber's luxury service category is where you should look for your cab.
UberSUV
Can you guess what sets UberXL apart from UberX? The type of car user is being picked up in. With UberSUV, its the same thing but for a different reason. Passengers are ready to pay a little extra to ride in a luxury SUV with a professional driver. Uber does a rigorous background check of the drivers and also inspect the car once a year.
UberBLACK
UberBLACK is Uber's answer to the town car services. Instead of a regular sedan, with UberBLACK, you'll be picked up in a black luxury car and a professional driver. The service offers cars with premium features like all leather seats, partitions (in some car models), etc.
UberLUX
UberLUX can be called UberBLACK on steroids. It offers the ultimate luxury service with top of the line cars and the highest-rated drivers. This service is for the most elite customers of Uber for whom luxury and status is more important than money.
Uber's User Assist Options
This service is for the Uber users that use wheelchairs or need any other kind of assistance.
UberWAV
UberWAV offers vehicles that are build or modified, especially to access motorized wheelchairs or scooters. With UberWAV, you can order a wheelchair-accessible ride for yourself or someone you know. The drivers offering service under the UberWAV category are certified in safely driving and assisting their target customers.
What's So Special

About Uber?

Uber has been through many ups and downs over the span of ten years, but the thing that has kept the company going strong are its mission and vision.
Uber's Mission
Uber has shown and followed various taglines over the years. Here are a few of them:
Everyone's private driver
Get there. Your day belongs to you.
Connecting you with the people, places, and things you love.
Evolving the way the world moves.
If you can observe, there is a common theme going on with these titles; the company's care for its passengers. Uber has always been firstly concerned about the experience that their passengers get, and the company has done more than someone can expect from a multi-billion company.
Uber's Vision
The company has many times shown where its true dedication lies. There have been speculations in the past that Uber has served its customers amazingly, but only at the expense of their drivers. Uber took these comments as creative criticism and for the past couple of years, has shown equal care for its drivers.
Their latest FinTech-based product UberMONEY is a shining example where they have kept the Uber drivers their first priority. Among other visions, Uber also aims to make safe and reliable self-driving transportation a reality.
The Good, The Bad,

The Competitors

If you love old western movies, you know that after all the talks and discussions, in the end, only three factors stand in the world of business.

THE GOOD done by the company, THE BAD done by the company, and THE COMPETITORS against the company. So, just like a Mexican standoff, let's pit these three factors against each other for Uber.
What Did Uber Do Right?
Uber DIgitized The Taxi Industry
Before Uber, people use to stand on the street side and wave their hand to signal a taxi. This tiresome process increased the wait time and inconvenience for everyone.
Uber introduced an app for the passengers to order the taxi from anywhere. Just feed in the pickup and drop location and get your taxi app without any hassle.
Uber Removed The Fear of Unfamiliarity
Uber noticed that people had a fear of unfamiliar drivers. Most of the people (especially the women) were not comfortable to ride with an unknown driver.
Uber came up with the idea for passengers to see the driver profile and status before hiring a cab. Through the Uber app, users can now see the driver's profile, their past trips, and the ratings given to them by pst passengers.
Uber Brought Real-Time Notification
With the usual taxis, passengers are not able to get the real-time notifications of their rides. This lack of technology had people face several hurdles in their daily lives.
Uber came up with the app feature by which passengers get real-time location about their rides in terms of arrival and the cancellation of rides.
Uber Introduced Smart Route Suggestions
In all of the major cities, long waiting hours of a traffic jam is a common problem that people face. The reason is that drivers are not aware of the lesser congested routes at a given time.
The Uber app only provides one of the shortest routes with less traffic areas to Uber drivers making the rides shorter and smoother for the driver and the passengers.
Uber Launched Cashless Payment
In the past, users' had to carry money in hand to book a cab. In many instances after the ride, the driver and passenger would be fighting due to lack of money or change.
Uber found this problem earlier and introduced the cashless payment system into its app for easier transactions for the passengers as well as the drivers.
What Did Uber Do Wrong?
Maintaing Uber's Image
Uber is a multi-billion dollar company spread across several countries, and for such a company, there are occasions when things can go wrong. In this digital age, a single angry customer can impact very negatively on the social image of the company with one tweet or post.
So, handling such a massive operation without a few hiccups is impossible. Still, Uber is doing good as compared to a few other brands. But, this is a daily fight which the company will have to face until the day it stops running.
Chicken & Egg Problem
Entering any new city is always tough for any company, however big or small. We've talked about this problem earlier in the blog and also the solution that Uber applied to it. But throwing a lot of money towards a problem is not actually a feasible solution. So, until Uber finds an actual solution to this problem, I would consider this as a drawback of the company.
Trust & Safety Issue
One issue that is a subset of the problem mentioned above is trust. If a consumer is already using one company's product, then s/he would find it difficult to switch to another option. Simply said, a passenger that frequently goes with a local taxi will find it difficult to trust Uber and the hi-fi digital app solution that the company provides.
The solution for this is through marketing and advertisement. To create an image of the company that the passengers can trust more than the existing service provider, the local taxi service.
Who are Uber's Main Competition?
Here is a pictorial depiction of the top Uber statistics compared against Uber alternatives.
Takeaways from Uber

Business Model

Uber has seen all the highs and lows of the passenger transport industry and learned from each of them. That is the only reason why even after massive losses, Uber is trusted by investors and still going strong as an enterprise.

So here are a few takeaway points from the Uber business strategy and Business Model that we discussed today.
Keep Innovating like Uber
Uber doesn't know how to hang its guns and rest, and that is the best feature of a world-class business enterprise. The company always keeps on innovating with their old products as well as new. Uber always wants to provide the best to its customers and partners.
This enthusiasm is the reason why Uber has been among the top companies in the world, and it is the prime reason why Uber can become the whole and sole transport business entity of the future. With its latest innovations in automated driving, electric vehicles, and several other smart transport innovations, Uber is all set for the future and still exploring.
Keep Overhead Costs to Minimum
When Uber began operations to the point when it got its international fame, the company didn't own a single car and yet became the biggest on-demand taxi service in the world. Follow the same Uer business strategy and go for the less ownership model.
Scalability is the Holy Grail
We have always heard that a business should be scalable and to start the business from day one thinking about the scalability. But, how many companies actually stand true to this statement. I can say Uber sure does.
With every new city that Uber enters, it starts small, with a sustainable infrastructure (technologically) that can easily scale to hundreds, thousands, or even millions for a single location.

Download Ebook
The Complete Guide of How Uber Makes Money
If you are thinking of starting your own taxi business, then building an app is the first and foremost thing to begin with.
How to Start an On-Demand Taxi App

Business like Uber?

If you are still thinking about how to start your own uber like business, then let me give you a final tip. What do you think is the most important asset that Uber has? It's not its drivers, it's not Uber's R&D team, and it's not the top management team.

The answer to the question, "how to start a business like uber?" and the most important asset of the company is the same, its mobile app. The Uber app is the platform using which its two main stakeholders, its drivers, and passengers interact with the company.

So, if you wish to build your own Uber like company, you need to focus on first developing a world-class passenger and driver app for your on-demand taxi service startup. For that, you need a very reliable and skillful taxi mobile app design and app development company to be your technology partner.

Yet confused on any point? Get in touch with our experts. They will guide you with the best solution for your app like Uber.
FAQs
Q 1. How do I start an Uber business?

If you have an idea to start an uber business, reach out to the app development company and discuss your business plan for Uber. To start any business you would need a mobile app. Get the right understanding of the business plan and strategy to get a grip on the Uber taxi business.
Q 2. What is the ride-sharing business model?

Ride-sharing business model is where two or more people share the same ride. Ride-sharing is a two-sided marketplace where the interface connects the drivers and the users at the same time. Uber's business strategy is the best to adapt for any taxi business.
Q 3. How can I start a rideshare company like Uber?

Start your market research and choose a niche. Next would be the business or revenue model you choose for your business. Go digital and create a mobile application that can help you manage the entire taxi business operations from one platform. Discuss your Uber business plan with the developers and they will do the rest.
Q 4. How does Uber make a profit?

Uber looks simple and easy like any other ride sharing business. But, its revenue model is different from theirs. It does not employ riders so it does not generate money through rides. However, the commission based model decides the certain % shared with the drivers. The Uber business plan brings more money than any other business.
Q 5. Is Uber on demand model?

Yes, the business plan for Uber is an on-demand cab aggregator model that operates on the smartphone to book a cab that calculates the estimated time to travel, and the fare. The agent revenue model generates money that comes from the commission paid by the drivers to use the platform.
Q 6. Is the Uber business profitable?

Yes, Uber strategy and planning has always given profits to the business. Though there is no direct revenue, they follow a commission-based plan to earn profits from the drivers' earnings. It depends on the driver's location and hourly wages.
Q 7. What is Uber's business strategy?

The right question should be what is the growth strategy of Uber? Well, the business strategy or plan of Uber itself is the growth plan to earn maximum profits. The value proposition is simple and has solved many transportation problems easily. Most importantly, the digitized world has taken over the huge plunge in the growth of Uber. Develop a mobile app like Uber and get started with earning profits.